February 9, 2016


RE: FREE WEBINAR TEACHES YOU HOW TO CREATE AN INTERACTIVE EXCEL DASHBOARD

Hi Excel Addicts,

Starting February 9, 2016, Mynda Treacy is hosting two free webinars on Creating Excel Dashboards. These webinars will be running multiple times over the next 7 days, so you can find a date and time that fits your schedule.



Webinar 1

is for anyone who creates reports in Excel. Mynda will show you how to use Excel to build an interactive dashboard (as shown in the image link below. Click on it to see a larger image), with no additional software or add-ins required...just plain old Excel and some data. This is available for Excel 2007/2010/2013/2016 users.






Webinar 2

is for more advanced Excel users. In this webinar, Mynda will show how you can use Power Query to get data from multiple sources, mash it up with Power Pivot and analyze it in PivotTables to create an interactive Excel Dashboard (as shown in the image link below. Click on it to see a larger image). This webinar is for Excel 2010/2013/2016 users.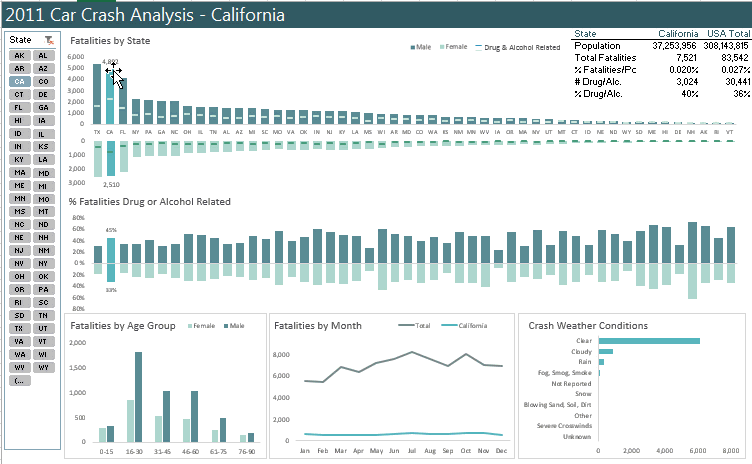 If you are not familiar with Excel Dashboard Reporting, what you will learn here can literally change the way you and your company use Excel to prepare reports and analyze data.

If you missed out the last time Mynda offered her free webinars, you won't want to miss out on this one. Once you discover how quickly and easily dashboard reports can be updated and refreshed, Excel reporting as you know it will never be the same.



Can you imagine updating your Excel reports in less than a minute?



And Dashboard Reporting is not just about updating your reports faster. Mynda's dashboard webinar will teach you how to design better, more effective dashboard reports that are much easier for end users to interpret.

Even if your job doesn't require you to create dashboard reports in Excel,

just watching one or both of these FREE webinars will teach you dozens of new tips and tricks

that you can use in your everyday Excel work.



Comment from past webinar participant: "Most webinars are thinly veiled info-mercials lacking worthwhile content. This webinar contained tips and helpful information that I can actually use right now. Thank you!" -Granville



You can even download the Excel workbooks that Mynda uses in the webinar containing the completed dashboards so you can play with it and see how it works.



Why am I promoting Mynda's Excel Dashboards webinars and course?




Although I have been using Excel for more than 20 years, honestly, I don't know everything. I can't possibly cover every aspect of Excel in my newsletters, so to help you expand your Excel skills even further, I will occasionally be recommending some outside resources that I consider to be 'first class'.

Mynda's dashboard course is definitely FIRST CLASS.



I have known Mynda and her husband Phil for more than three years and have found them to be honest, dedicated and meticulous Excel trainers whose main goal is to give you the best possible training to enhance your skills. They guarantee your satisfaction and so do I.

To date, more than 1000 Excel Addict members have taken Mynda's course and I have heard nothing but high praise for both of them and the dashboard course.

If you want to see for yourself why Excel Dashboard Reporting skills are in such high demand, go here to sign up for a convenient time to watch the Dashboards Webinar.

After watching Mynda's Dashboard webinar, I know you will have learned many new awesome tricks and techniques that will immediately help you work smarter and faster with Excel in your everyday work.



TRANSFORM YOUR EXCEL CAREER IN 2016 WITH EXCEL DASHBOARD SKILLS



If you want to transform your Excel career in 2016 with Excel Dashboard skills, please consider enrolling in Mynda's full Dashboard Course.

Maybe you could ask up your boss to pay for the course. It will pay you back many times over

. You can even

save 20% off the course price until February 18

. Please use

EXCELADDICT

for your coupon code at the Checkout page and

you will qualify for my exclusive BONUS

(below).


'EXCELADDICT' BONUS FOR ANYONE WHO ENROLLS IN MYNDA'S FULL DASHBOARD COURSE



I am happy to announce that I am currently working on my 'Excel in Seconds' e-book. Anyone who enrolls in Mynda's full Excel Dashboard Course and uses the Coupon Code

EXCELADDICT

will receive a free copy of my upcoming e-book.


Enjoy the rest of your week and keep on Excelling,
Francis Hayes (The Excel Addict)
Email:

fhayes[AT]TheExcelAddict.com




---

Earnings Disclosure: Some of the resources I recommend on my website and in my newsletter pay me a small referral commission if you purchase from them through links on my website or using my referral code. This helps offset the costs of my website. I've worked long and hard to build up my reputation online over the past 10+ years as someone who provides exceptional value to my readers. So I'm not willing to risk that for a few dollars. As you know, I don't just recommend anything. It has to be of outstanding quality and value. If you are ever not completely satisfied with anything I recommend, please let me know and I will ensure you get your money back...GUARANTEED. You can't lose.

'Spreadsheets Tips From An Excel Addict', 'Excel in Seconds' and 'Excel in Minutes'
are publications of TheExcelAddict.com.
Copyright Francis Hayes All Rights Reserved.
8 Lexington Place, Conception Bay South, Newfoundland, Canada, A1X 6A2 Phone: 709-834-4630